Chino, California, February 22th 2023 - ENERMAX, an industry-leading force dedicated to designing extreme performance computer power supplies and cooling solutions, releases its upgraded fully-modular 80 PLUS Gold certified power supply - the REVOLUTION D.F. 2 series!
REVOLUTION D.F. 2 is designed with 100% Japanese Capacitors, 140mm compact chassis in-depth, semi-fanless mechanics, DC-to-DC conversion, the advanced LLC, Synchronous Rectifier (SR) design, and patented Dust-Free Rotation (DFR) technology.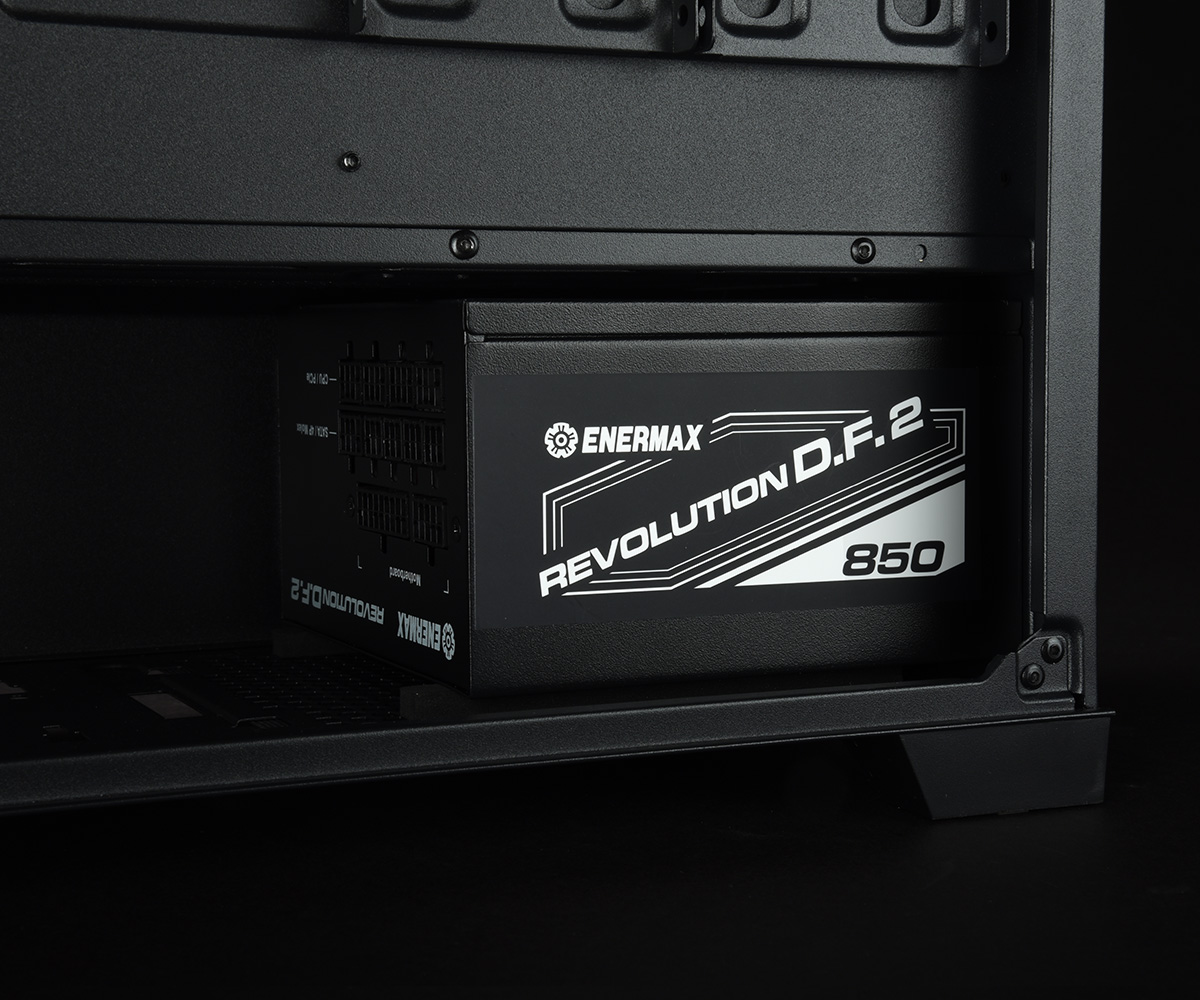 Following the success of the REVOLUTION D.F. series, the REVOLUTION D.F. 2 inherits ENERMAX's iconic Dust Free Rotation (D.F.R.) technology and semi-fanless mechanics.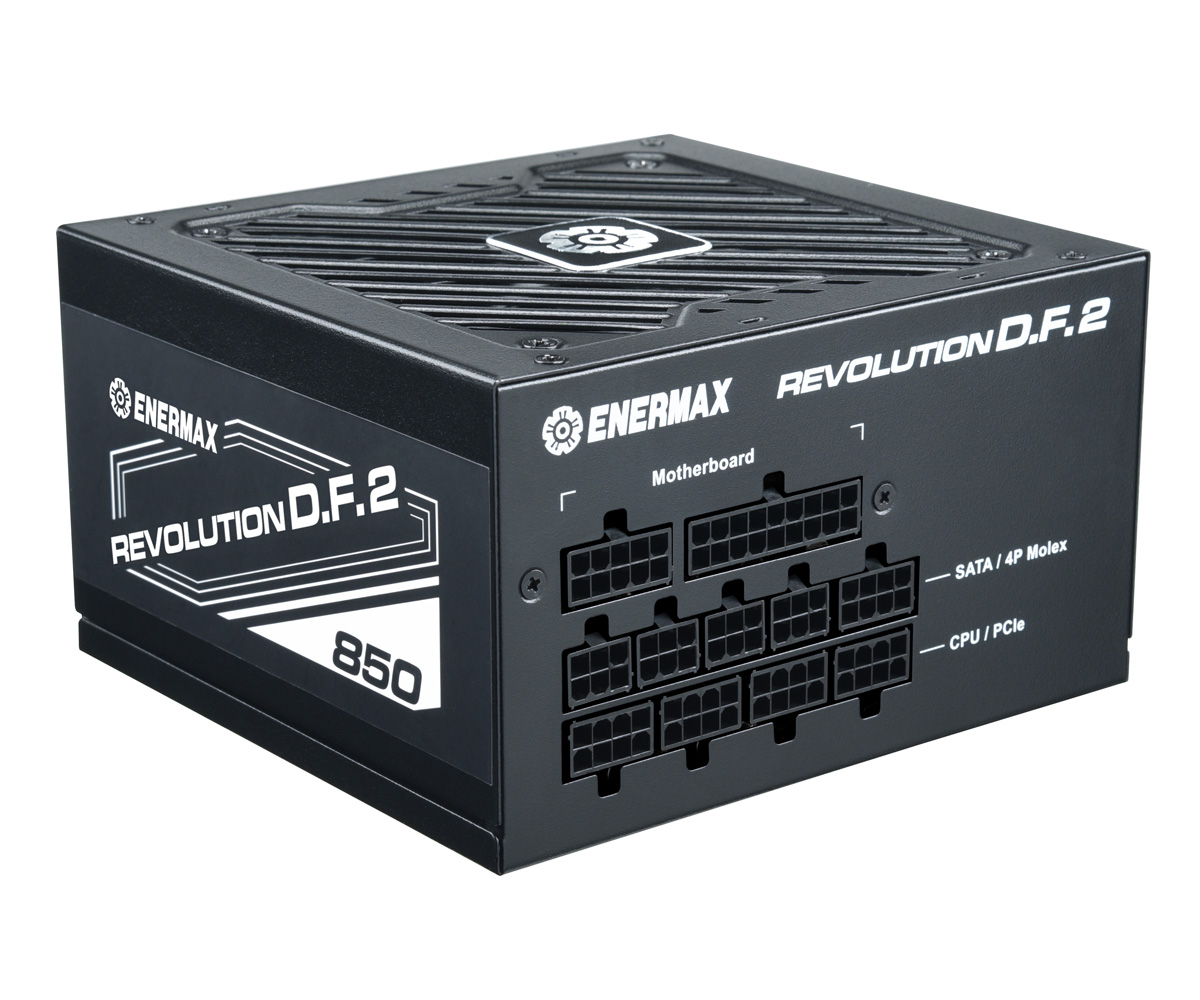 The upgraded circuit design of the REVOLUTION D.F. 2 series allows its peak power wattage output to reach 200%, which means the 850W model of REVOLUTION D.F. 2 can stably provide 1700W for 100µs (microsecond) to support instantly power excursion.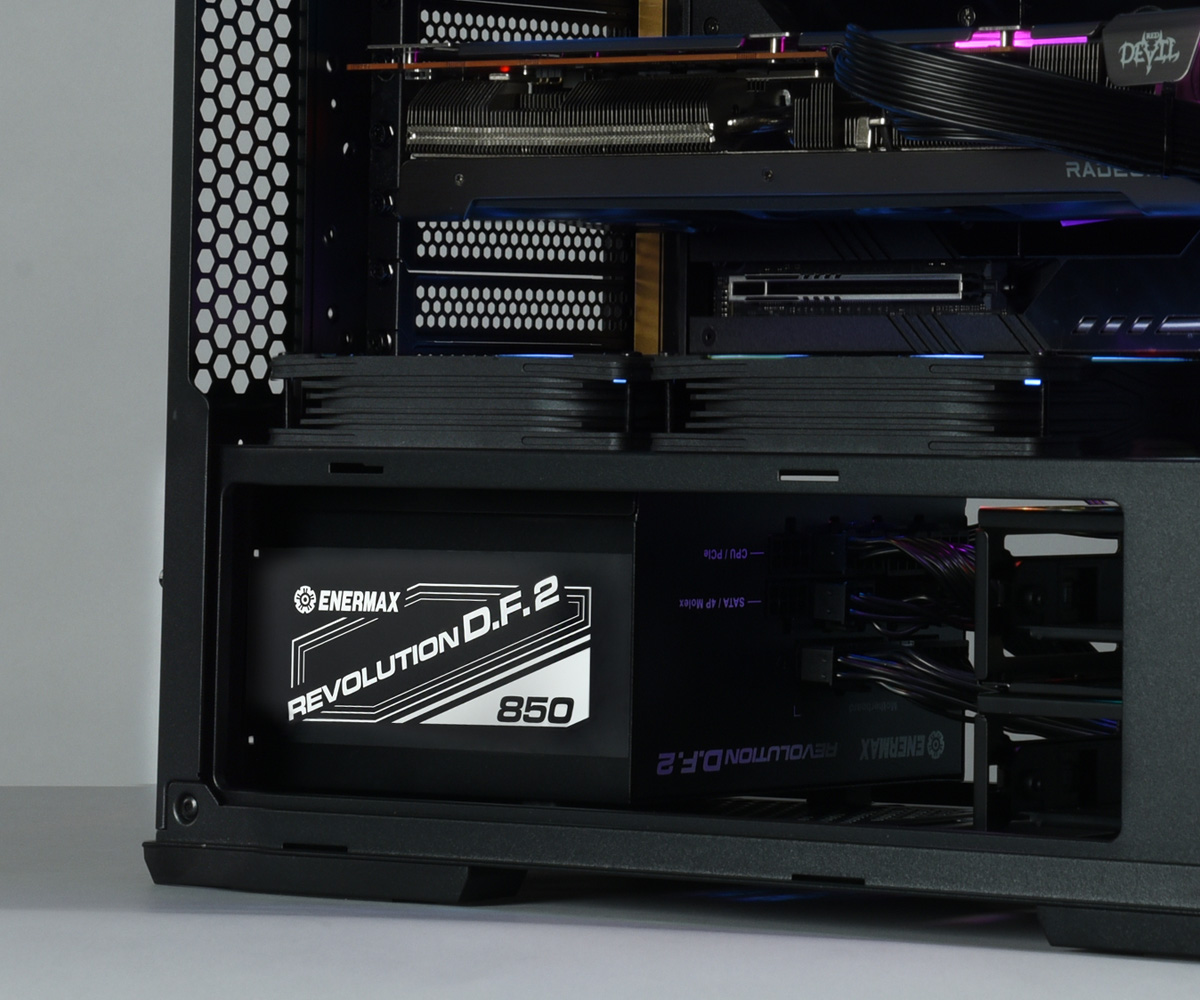 The Dust Free Rotation (D.F.R.) technology is an innovative self-cleaning solution that enables the PSU fan to blow away the dust accumulating around the fan blade & frame upon powering up.
The semi-fanless mechanics enables the PSU fan to be static while the system load is under 20% to provide users with absolutes silence of 0 dB(A). The quiet Fluid Dynamic Bearing (FDB) fan also ensures excellent cooling performance with minimized noise and vibration.
The 850W model of REVOLUTION D.F. 2 power supply is available immediately at the ENERMAX USA online store, Amazon, Newegg  and the ENERMAX authorized retailers and distributors. The availability of the 1050W and 1200W models will be announced shortly.
Web Pages
Learn more about the ENERMAX REVOLUTION D.F.2 Series, Click Here.


About ENERMAX
ENERMAX is a world-renowned PC Power Supply manufacturer and maker of award-winning PC components such as chassis, coolers, fans, and peripherals, with recognition from consumers around the world. Our farsighted R&D capability is our key strength and we stick to our spirit of "Technical Innovation" and "Quality First" to create products that unleash the full potential of the system for every PC enthusiast. For more information please visit us at www.ENERMAXUSA.com 
Follow Us on Social Media
Facebook: https://www.facebook.com/OfficialENERMAX
Instagram: https://www.instagram.com/OfficialENERMAX
Twitter: https://twitter.com/OfficialENERMAX
Youtube: https://www.youtube.com/@OfficialENERMAX
Copyright © 2023 ENERMAX Technology Corporation. All rights reserved. Features, pricing, availability, and specifications are subject to change without notice.