CES 2023, Chino, California — January 5th 2023 - ENERMAX, an industry-leading force dedicated to design extreme performance computer power supplies and cooling solutions, announces a range of new products at CES 2023 designed for the increasing power demands of new graphic cards including its first ATX 3.0 power supply, the Revolution ATX3.0; and a fully upgraded 80 PLUS Gold certified power supply, the Revolution D.F. 2; the high-performance CPU AIO liquid cooler series, the AQUAFUSION ADV and the next-generation mesh panel gaming pc case with superior ventilation potential, the Marbleshell MS31 & MS21.
Build For Next Generation - Revolution ATX 3.0 Power Supply Series
Revolution ATX3.0 series is ENERMAX's first power supply that is fully compatible with Intel ATX 3.0 specification. To prepare for the next-gen graphics cards, the series is designed with one native PCIe Gen 5 12+4 pin 12VHPWR connector with power output up to 600W, an extra one dual 8 pin to 12+4 pin (12VHPWER) cable will also be included for gamers and creators to install up to 2 of the latest NVIDIA graphics cards to enjoy the most advanced performance.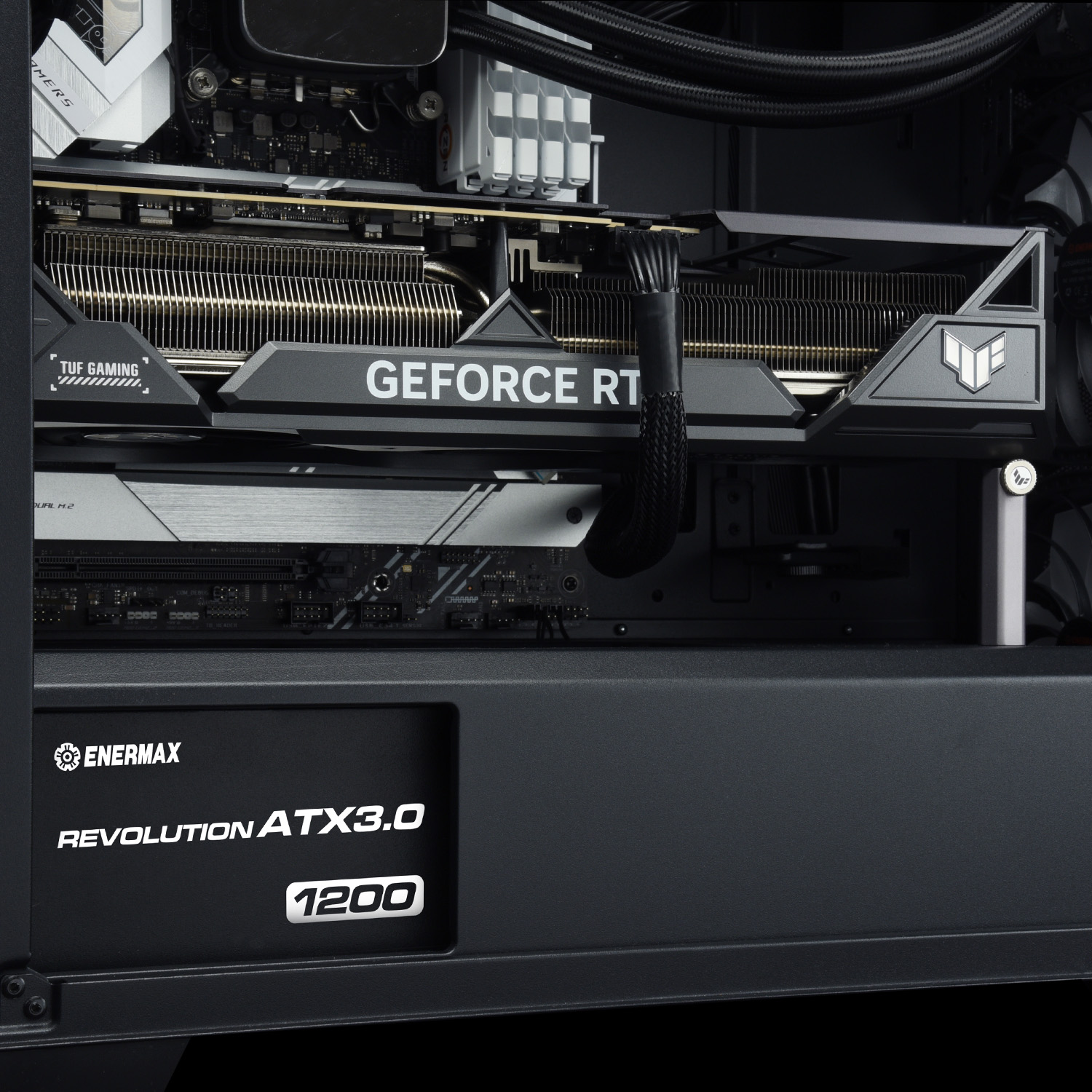 The new specifications of ATX3.0 will have a positive impact for power and performance improvements across all desktop segments. It can sustain up to 200% power load for power excursion, reach 60%-70% efficiency even during low loading and shorter power-on time to make you power up your system faster.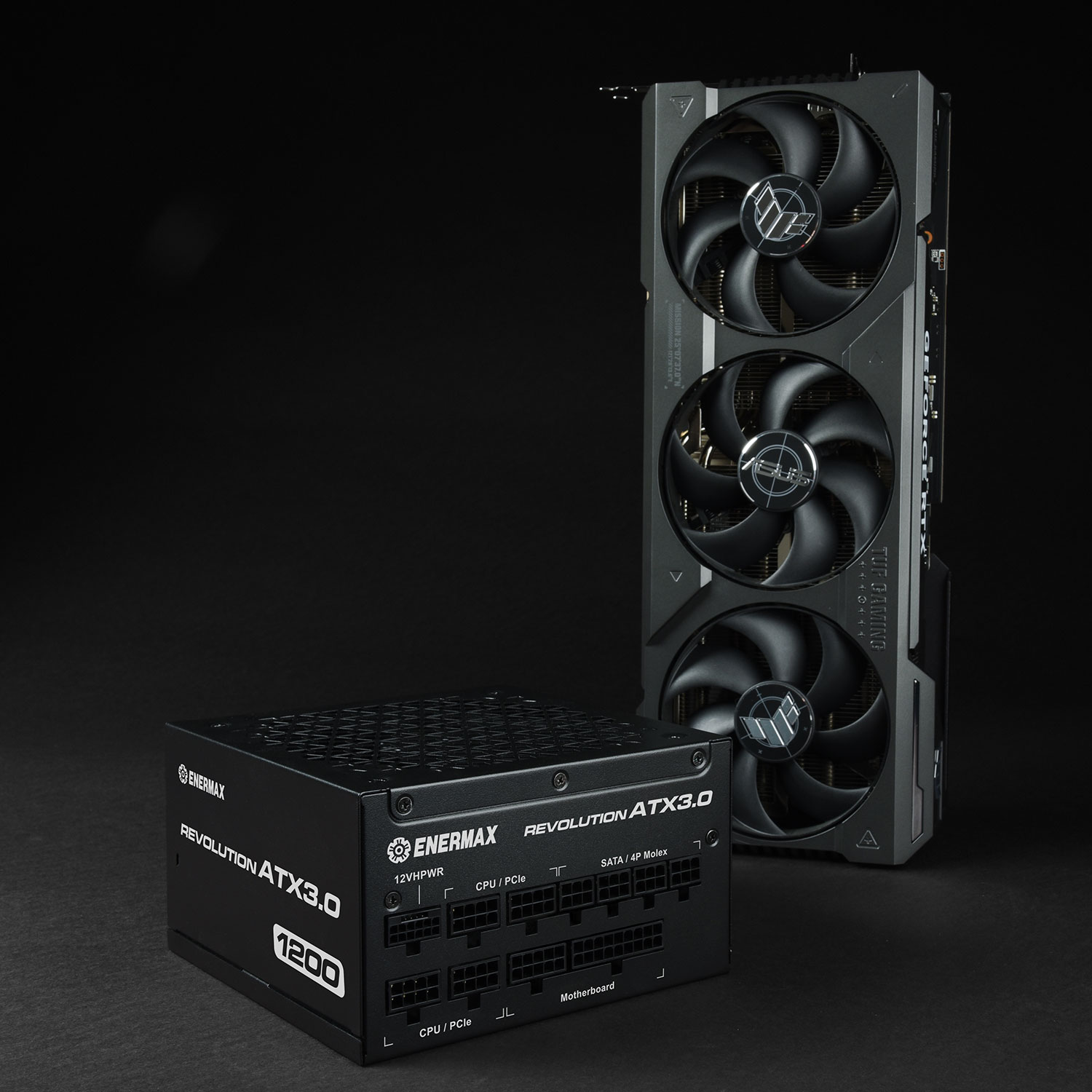 Revolution ATX3.0 series is designed with the ENERMAX Semi-Fanless technology and you can control it through the side button. Whether you want to enjoy absolute silence of 0 dBa until the load exceeds 30% to minimize the fan noise during low loading or you can turn it off and ensure active cooling of your power supply for all time.
The Revolution Continues - Revolution D.F. 2 Power Supply Series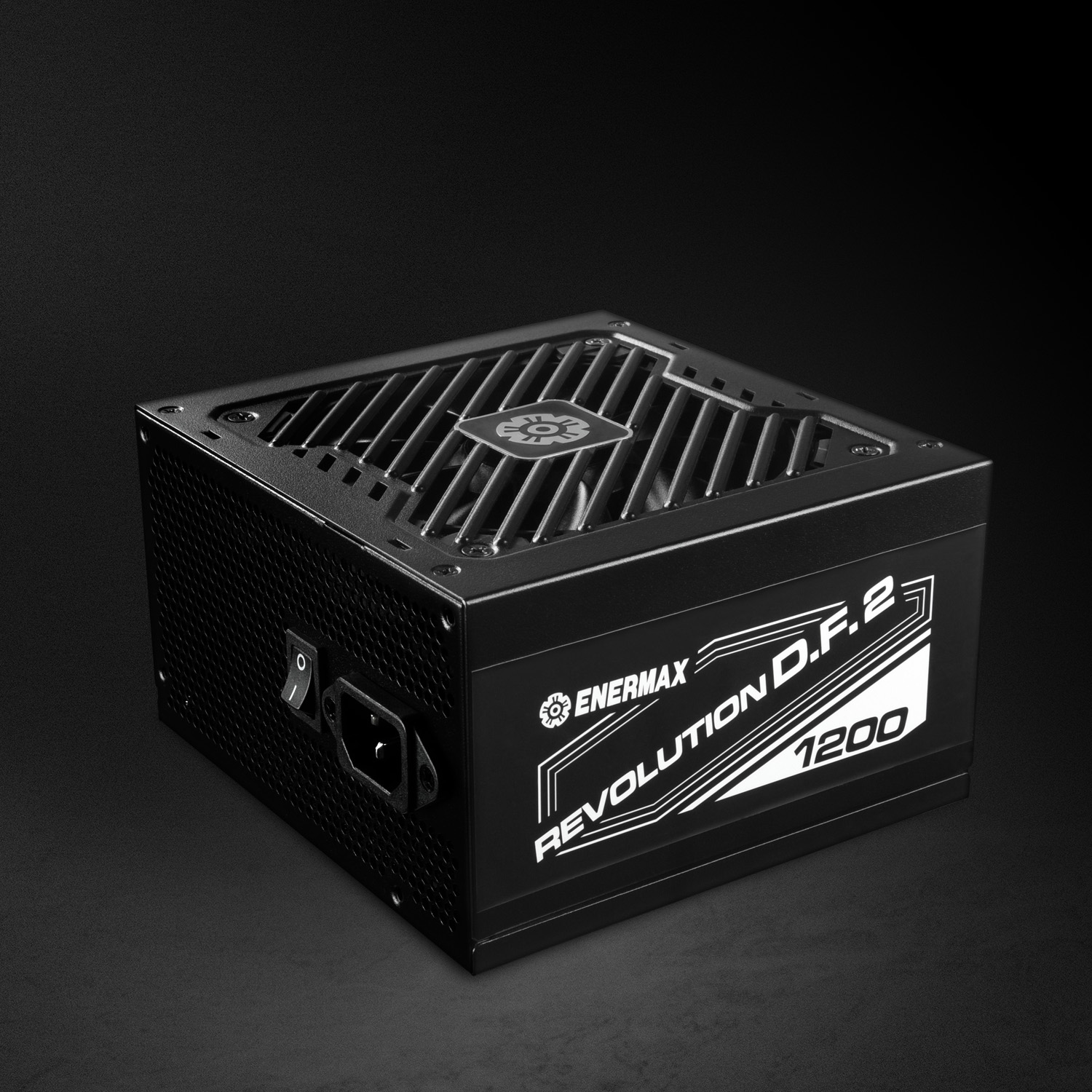 Following the success of Revolution D.F. Series, the Revolution D.F. 2 series is a fully upgraded 80 PLUS Gold certified fully-modular power supply with top-notch performance. With a compact size of 140mm, it is one of the smallest kilowatt power supplies with wattage output from 1200W, 1050W to 850W. The upgraded circuit design has allowed the peak power wattage output to reach 200% and the excellent build quality will ensure the next-generation performance, visuals, and efficiency for gamers and creators. 
Revolution D.F. 2 series will also feature ENERMAX most iconic self-cleaning solution, the Dust-Free Rotation (DFR) technology, that allow you to unleash the full potential of your system and ensure a stable power delivery for years.
Infinite Powerful – The High Performance AIO CPU Cooler AQUAFUSION ADV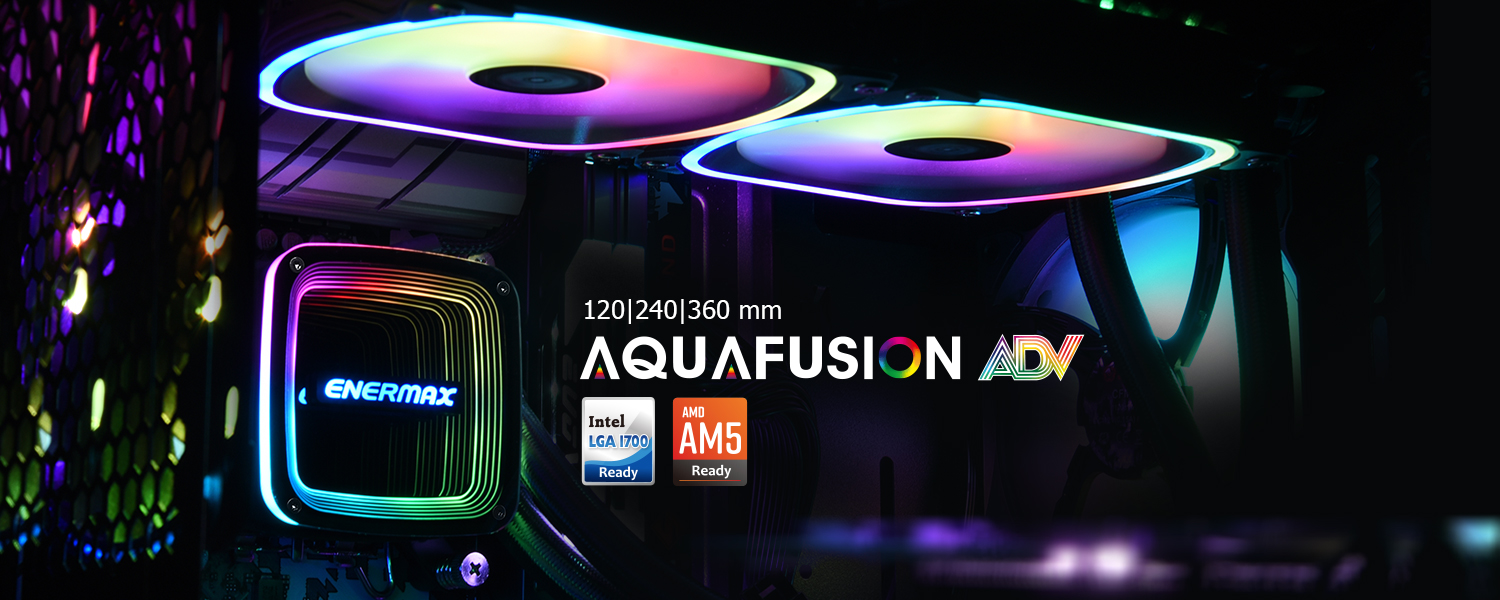 For those looking for the solution for the rising temperature of their processors, the AQUAFUSION ADV series is designed to handle the latest advanced processors including AMD Ryzen™ 7000 Series and 13th Generation Intel® desktop processors. The new AQUAFUSION ADV series offers a luminous Aurabelt™ and infinite mirror RGB water block with a 360mm, 240mm and 120mm radiator in black and white. Each of the new liquid cooler is equipped with ENERMAX SquA RGB ADV fans that will not only provide an incredible stunning RGB hub lighting effects but also powerful cooling performance with Vortex Frame design and a downsized hub design to push the airflow up to 79.8 CFM, static air pressure up to 3.6mmH2O and heat dissipation efficiency to 380W.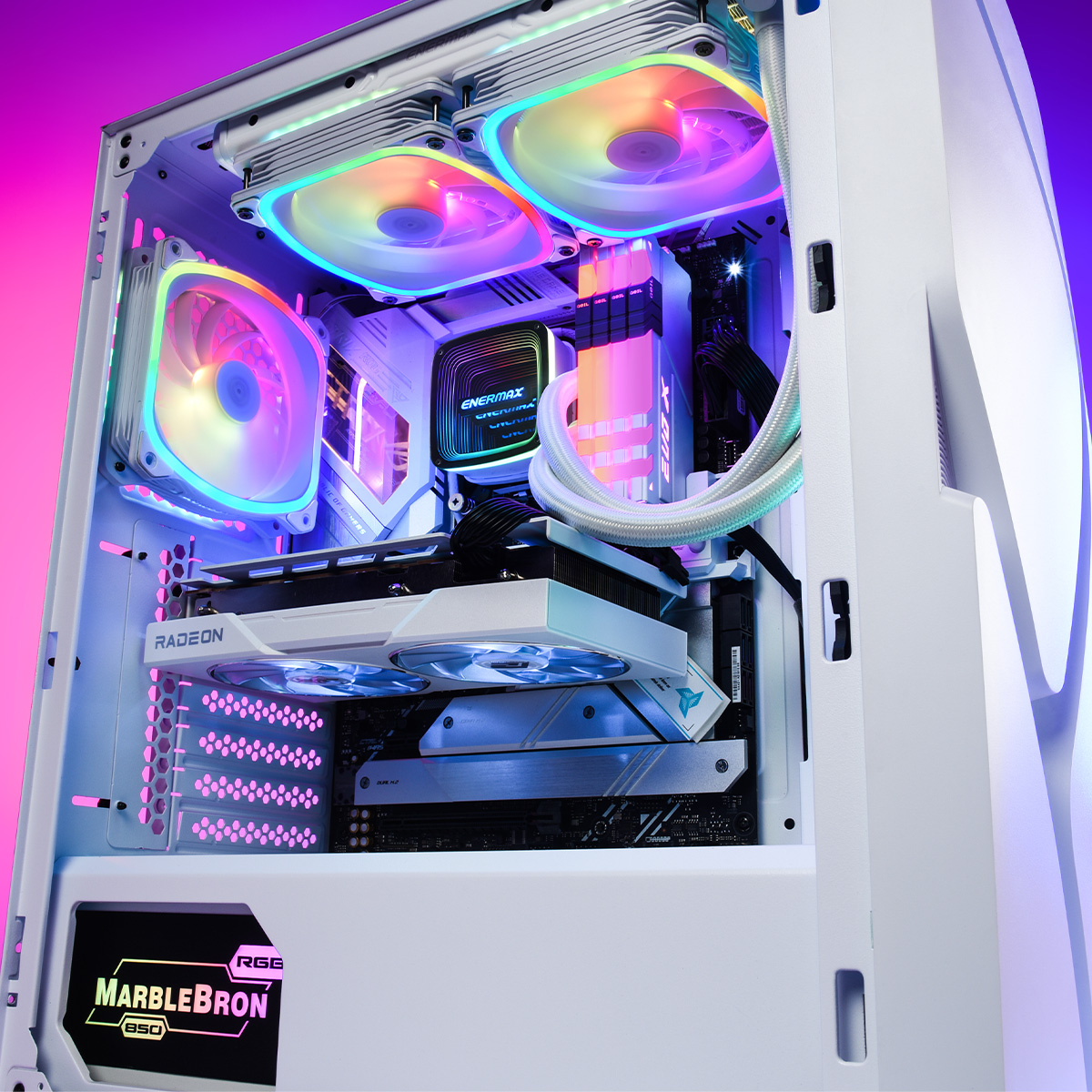 The water block is using the ENERMAX Dual-chamber mechanism that isolates the pump from the heat and allows the water block to perform at a high peak for a much longer period of time. The ENERMAX Central Coolant Inlet (CCI) technology and Shunt-Channel technology (SCT) will also result in lower temperatures and increase the efficiency of your system.
Superior Ventilation Potential– The Marbleshell MS31 & MS21 PC Cases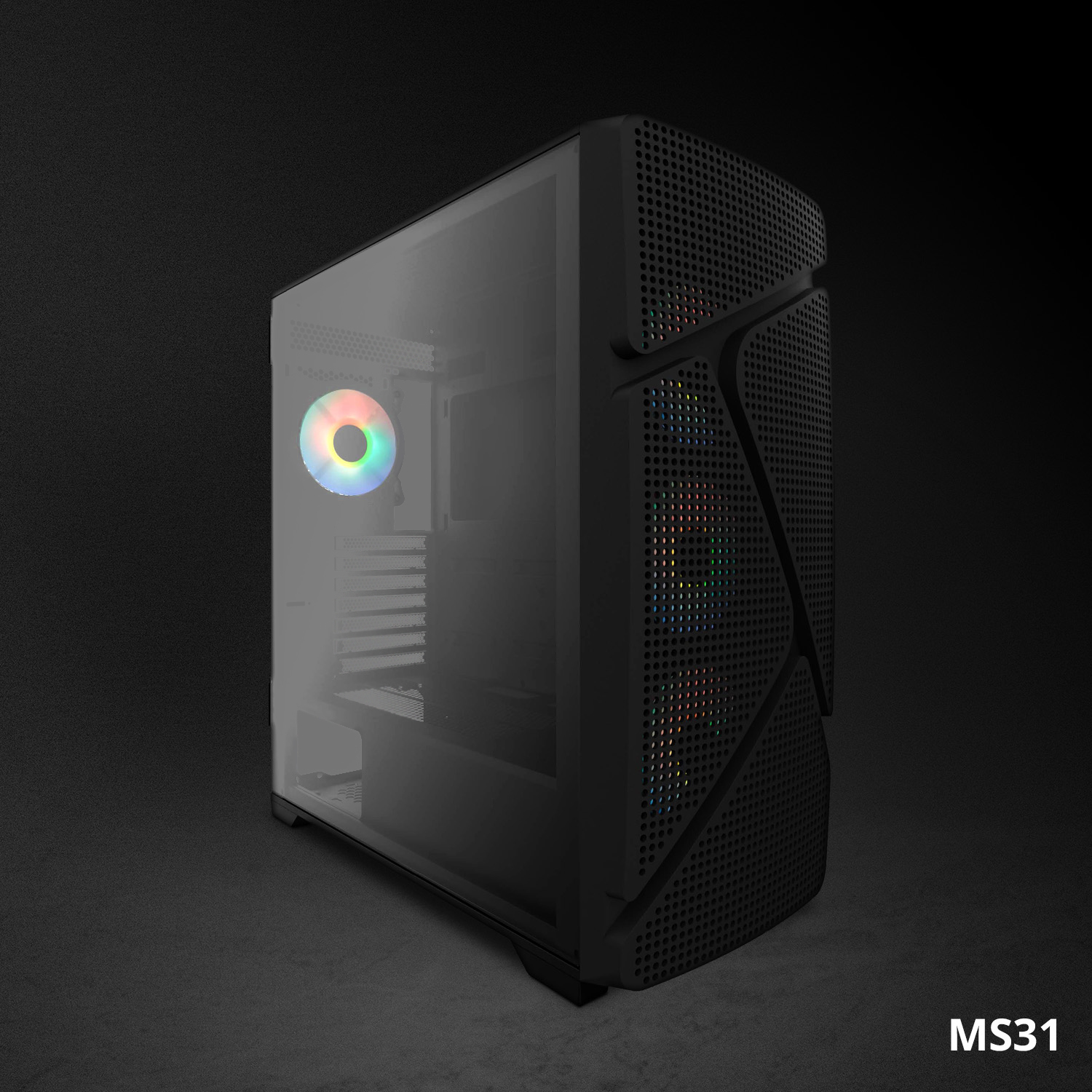 As the system becomes more powerful and generates more heat, the most crucial part of good airflow is getting the right case with excellent ventilation potential.  The Marbleshell Mesh series carries on the marble-styled front panel with mesh design for a superb cooling potential. The Marbleshell MS21 is a mATX case and Marbleshell MS31 is an ATX mid-tower case, both are designed with a tool-free and easy to open tempered glass side panel for a better building experience.
With the pre-installed addressable RGB fans in the front and at the rear, the MS31 can support up to 11 x 120mm cooling fan and 360mm radiator in the front and on the top panel. The MS21 can also support 360mm radiator in the front and 280mm radiator on the top panel.
As the revolution of new hardware continues, ENERMAX is ready to continually bring out new innovations to gamers, creators, and pc enthusiasts from power supplies, CPU coolers to PC cases that will ensure you get the most and best experience out of your system. 
Availability and Pricing
The AQUAFUSION ADV CPU cooler series will be available in mid-January from ENERMAX USA webstore, Amazon, and ENERMAX worldwide authorized retailers and distributors. 
The Revolution ATX 3.0 power supply series and the Revolution D.F. 2 power supply series will be available in March, 2023. 
The Marbleshell MS31 & MS21 will be available in May, 2023. 
For up-to-date pricing and availability, please refer to ENERMAX website or contact your local ENERMAX sales representative. 
About ENERMAX
ENERMAX is a world-renowned PC Power Supply manufacturer and maker of award-winning PC components such as chassis, coolers, fans, and peripherals, with recognitions from consumers around the world. Our farsighted R&D capability is our key strength and we stick to our spirit of "Technical Innovation" and "Quality First" to create products that unleash the full potential of the system for every PC enthusiasts. For more information please visit us at
www.ENERMAXUSA.com
Copyright © 2023 ENERMAX Technology Corporation. All rights reserved. Features, pricing, availability, and specifications are subject to change without notice.