REVOLUTION ATX 3.0
FULLY MODULAR ATX POWER SUPPLY
Introducing
REVOLUTION ATX 3.0
Revolution ATX3.0 series is ENERMAX's first power supply that is fully compatible with Intel ATX 3.0 specification. To prepare for the next-gen graphics cards, the series is designed with one native PCIe Gen 5 12+4 pin 12VHPWR connector with power output up to 600W, an extra one dual 8 pin to 12+4 pin (12VHPWER) cable will also be included for gamers and creators to install up to 2 of the latest NVIDIA graphics cards.
Available in 1000W & 1200W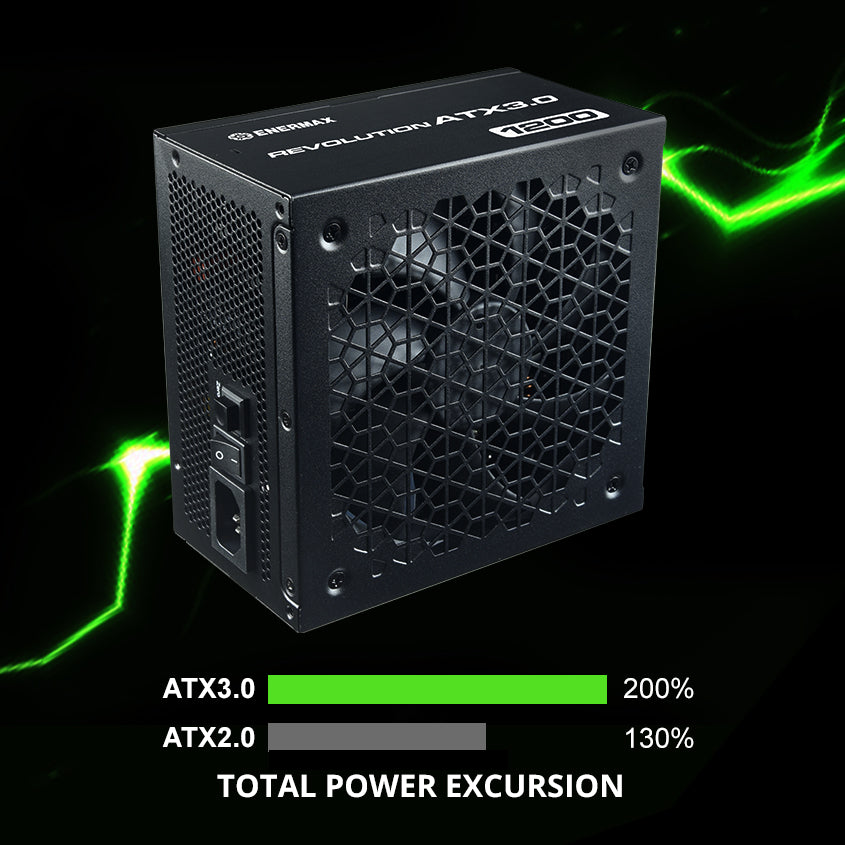 ATX 3.0 Compatible
Compliant with PCIe 5.0 and Intel ATX 3.0 standard, able to hold up to 2x total power excursion and 3x GPU power excursion.

Native PCIe Gen 5.0 Cable
REVOLUTION ATX 3.0 comes with native 12+4 pin 12VHPWR cable that directly supply up to 600W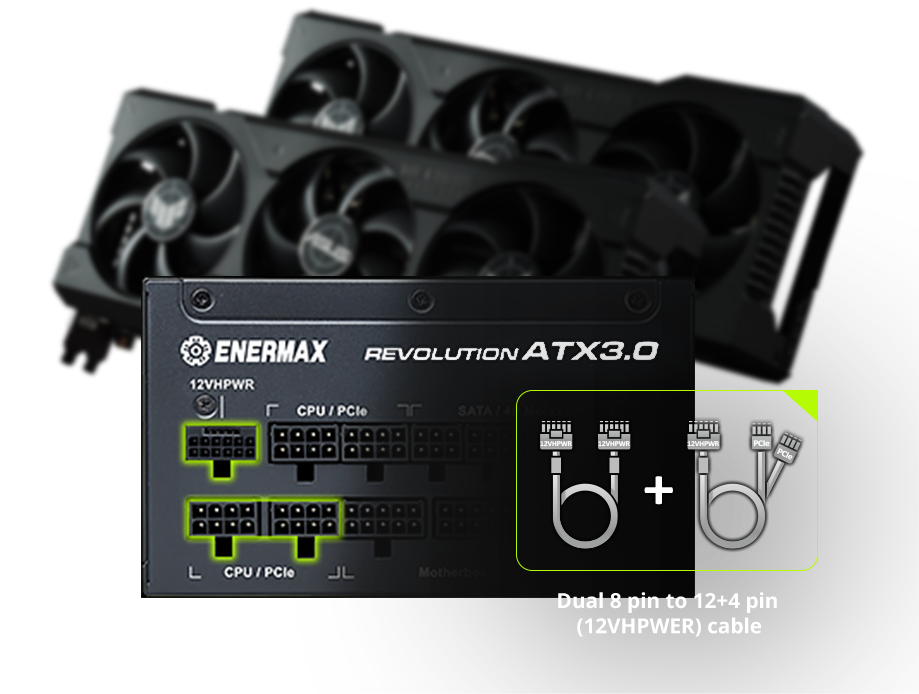 EXTRA CABLE TO SUPPORT TWO GRAPHICS CARDS
REVOLUTION ATX 3.0 will also include an additional Dual PCIe 8pin to 12VHPWR cable in the box for you to install up to two of the latest NVIDIA graphics cards
BUILD FOR ALL GRAPHIC CARDS
REVOLUTION ATX 3.0 is designed to support all of the NVIDIA, AMD and Intel graphics cards according to their different types of power

PUSH FOR ABSOLUTE SILENCE
To reduce noise output, the Semi-fanless fan shuts off entirely when the PSU load is 30% or below. You can turn off the function as you need to ensure active cooling for all time.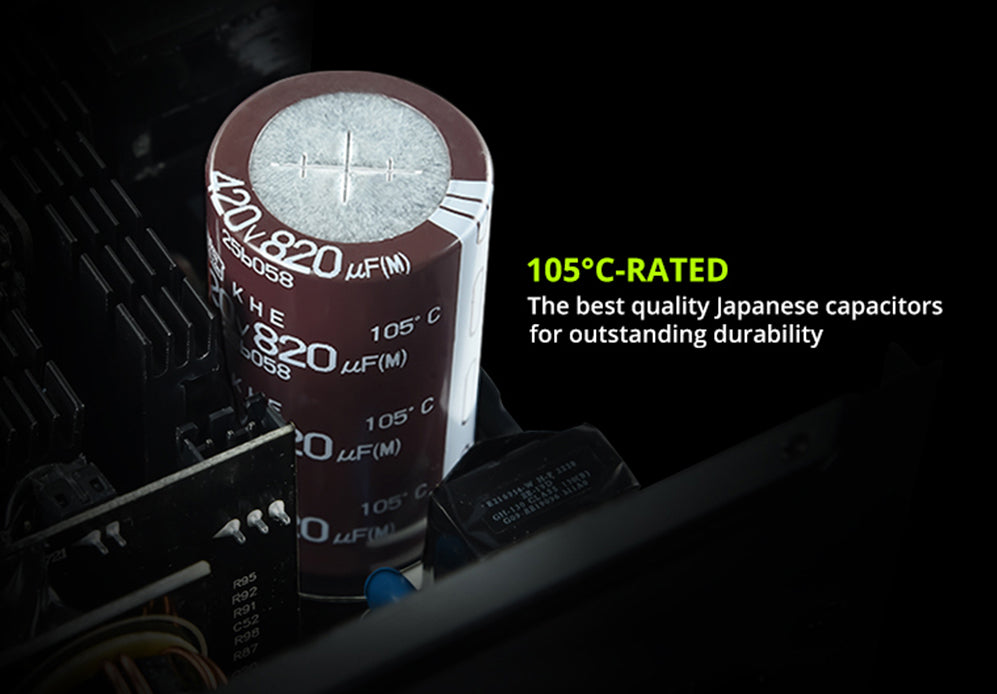 SUPERIOR EFFICIENCY
With up to 92% efficiency and the best quality Japanese electrolytic capacitors to reduce unnecessary power consumption, save energy and create lower temperature.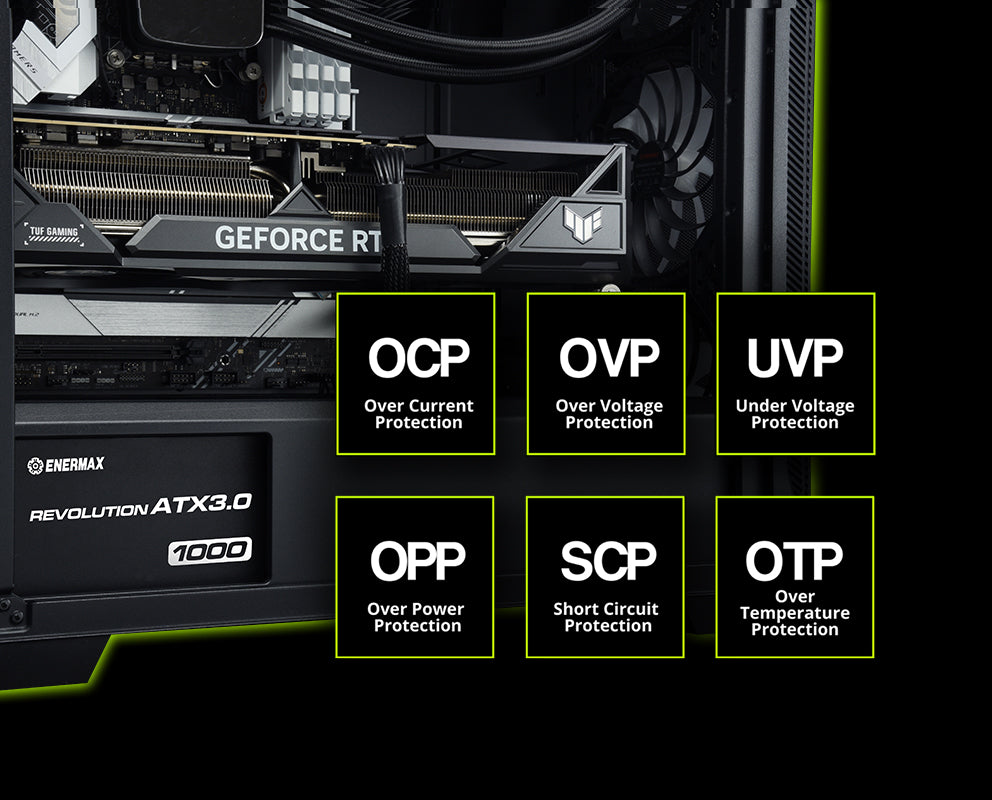 RELIABLE AND SAFE FOR YOUR SYSTEM
REVOLUTION ATX 3.0 applied advanced LLC and Synchronous Rectifier (SR) design which provides uncompromised power output. DC-to-DC conversion optimizing the stability for better voltage regulation.
Multiple circuitry protection of OVP, UVP, OPP, SCP, and OTP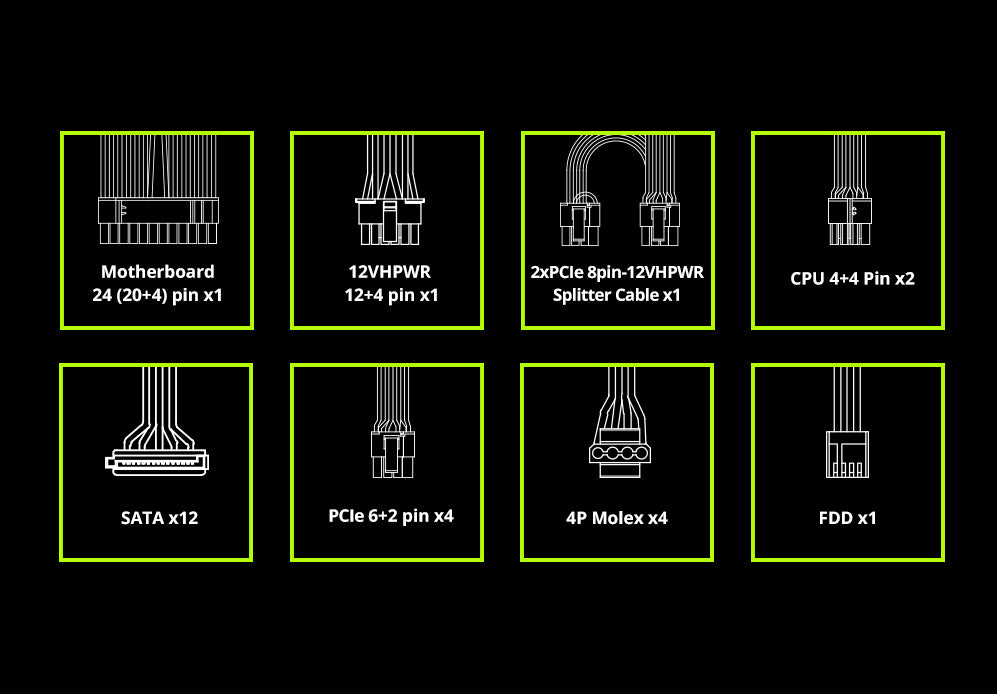 CABLE AND POWER AS YOU NEED
Only connect the cable you need with full modular design. REVOLUTION ATX 3.0 will also deliver the power you need for the best compatibility and avoid overloading with single rail +12V design.